Organic. Beautiful. Ethical.
Sustainable Fashion from the Heart of Bangkok
Shop our new 2021 Cotton Collection.
Low Impact
We source locally and create biodegradable products with less waste.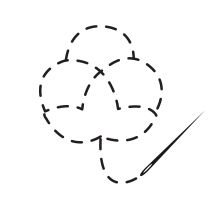 Eco Materials
Our clothes are made from organic, renewable or recycled materials.
Made with Love
Each piece is made by hand, and a portion of sales goes towards charity.
Good for You
Sustainably made fabrics are harmless to your skin & good for the environment.
Our eco-friendly 2021 Cotton Collection features a versatile range of clothing and accessories made purely from organic and recycled cotton. Crafted with passion and purpose, each piece can be adapted and worn in many different ways to create your own, personalized look.
From using organic, recycled and fair-trade fabrics to supporting local communities and small-batch manufacturers in Thailand, we take pride in creating sustainable fashion that looks good. 2% of your purchase supports one out of 5 foundations that work hard towards protecting natural resources and creating a more healthy and just world.
We are on a journey to inspire people to live a sustainable and conscious lifestyle, and what we wear plays a huge role in that. Regrettably, the fashion industry has come to have a devastating impact on the environment by drying up and polluting oceans and rivers, emitting harmful carbon, creating mountain-sized textile landfills and employing unethical labour practices. At Earthtone, we believe that a piece of clothing is only as beautiful as the story and process behind it. We take a humane and sustainable approach to fashion that respects the integrity of our planet without compromising on design, quality and durability.
Our fabrics are made of natural organic cotton and degradable agricultural by-products such as rice straw, pinewood, rattan, hyacinth and GRS-certified recycled materials, all of which are sourced exclusively from small communities in different parts of Thailand who share our belief in protecting the environment for future generations and promoting a sustainable way of life. Minimizing the use of chemicals and synthetic substances during the production process helps to avoid the release of harmful microplastics into the ocean when your clothes are being washed, and ensures the wellbeing of your skin.

"The texture of the fabrics is very good. Nice colours and very comfortable."
Nan
Bangkok
"Fast response and delivery! Looks exactly as shown in the pictures with very fine sewing."
Wang
Hong Kong
"The best choice for oversized clothes. Great design and perfect to wear for any occasion!"
Chanel
Bangkok
Subscribe to our newsletter to stay updated on future launches, exclusive deals, eco tips and events.
We ship internationally. Depending on where you are, you may expect your items to arrive between 3 – 10 days. Feel free to contact us should you have any questions or wish to place a larger order.
Just like you, we care for our planet and are hopeful for a better future. We want to share this hope with you by creating "zero-waste" fashion that minimizes the impact on our environment.